I thought it would be fun to start a short little series of before and after shots of various parts of our property. Unfortunately, I don't have good before shots for everything. But I have some cool ones to compare.
Here is the first one, a shot from our back deck looking back over the northwest corner of our property. Not the most interesting one, but some cool things happening never the less.
The before shot does have a cool rainbow going for it.
Here is the after shot, taken yesterday.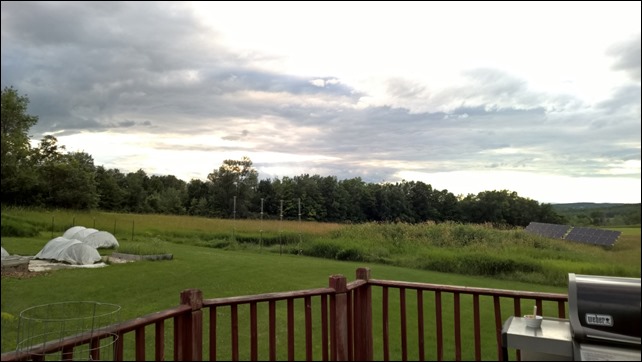 Biggest impact change is the solar panels of course. You can also see some hop poles along the edge of the yard. The t-posts in the back corner are where the raspberries are planted. We moved our raised beds over to this side of the garden and added a few. Btw, the gas grill is relatively new too. After many years of being a charcoal only purist, I finally gave in to the convenience that is a gas grill. Don't worry, still using charcoal to grill and smoke stuff some of the time.